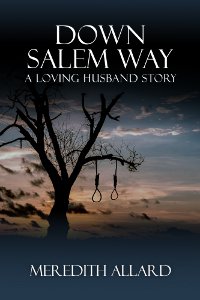 I'm trying out something new. After some consideration, I decided to experiment and post my progress on the novel on Wattpad.com. This way fans can see that, yes, in fact I am making progress on the story, and posting it this way will hold me accountable to both myself and readers. Her Dear & Loving Husband has received some great attention on Wattpad, and just today I received two lovely messages from readers who loved James and Sarah's paranormal story of eternal love. It's a great feeling knowing that my characters have struck such a positive note with readers all over the world.
Sharing unfinished fiction is definitely something new for me. Normally, I show my unfinished novels to exactly zero people. I like everything to be in tip top shape before readers read it, which means a lot of work prior to publication. While I'm nervous at the prospect of sharing my work in progress, I'm also finding the thought of it liberating. I don't have to make myself crazy before I post things on Wattpad. The point of the platform is to allow people to write and revise, and revise some more, and some more after that, and it's not supposed to be perfect when you first post it. I didn't post Her Dear & Loving Husband on there until after it was published, so readers were seeing a finished product.
One of the great things about being a writer today is that there are so many ways to share our work. Thanks to Wattpad, our work doesn't even need to be revised or polished before we start sharing our ideas with the world. So rest assured, James and Sarah's story is moving forward. Down Salem Way is both a sequel and a prequel since like the other Loving Husband stories, it's set in the past and the present. Today I posted the prologue, so we're already getting started. If you'd like to join me on this adventure, visit me at Wattpad.
SaveSave
SaveSave
SaveSave